I look forward to this every week. It's so nice to reflect on the positive things that have happened during the week!!
1. Parent/Teacher Conferences - We were lucky enough to have the conferences for all four girls scheduled on the same day. This meant that it took up an entire afternoon, but it also meant that my husband and I got to have lunch out together again :) The conferences were great because we got to have the teachers' undivided attention to discuss how each girl is doing. We are lucky that school is going so well for all of them at this point!
2. My snowman earrings - I bought these from Avon 2 or 3 years ago. I try to wear them when snow is still a novelty for the year and I'm not tired of it yet. Usually I don't wear them until January because I wear Christmas earrings for most of December. I got some use out of them this past week, that's for sure!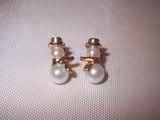 3. The bathroom scale - I will spare everyone a picture of this! Usually the scale and I are not on good terms. It likes to tell me things that I don't want to hear and in turn, I usually say mean things back! This week, the scale has been kind to me which has made me happy. We're not at the point of sending each other flowers or anything crazy like that, but for now, we're good.
4. Facebook - I recently joined Facebook and I have to say, I'm hooked!! I've reconnected with a bunch of old friends. There is such a snowball effect once you join and it's so much fun to watch it. However, I do think that my husband is tired of hearing about the updates to my Facebook list!
5. My brother - I got to spend time with my brother yesterday. I always look forward to seeing him. I don't get to see him as often as I like because we are both busy and because we are at different places in our lives right now. His daughter is in college and I have young children. I am married and he is single. But, when I do get to see him, I know it will be fun. I think that he is a very good-looking, funny guy and I love him.
Visit Susanne at
Living to Tell the Story
for great lists of Friday favorites.