Our youngest (by 2 minutes) daughter is probably our most challenging child, at least at this point. She is going through a phase (I hope) where she sometimes has very little impulse control. Along with that, she is very into "arts and crafts" right now. She is almost always with some sort of pen, pencil or marker, paper, tape and scissors. Lately we have been finding some "drawings" on places where they shouldn't be. She also happens to be very charming and lovable and has a heart of gold, so although she often frustrates me
greatly
, the feeling doesn't last long.
Yesterday, I was putting away some dominoes and I saw marker on one of the dominoes. I knew it was her. She might as well just sign her name on things and I'm sure she would if she could.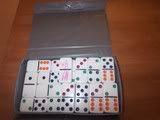 I yelled, "Sydney!! Why is there marker on the dominoes?!?"
She came running in, clearly upset that I was upset with her, and yelled, "DAT ONE DIDN'T HAVE DOTS ON!!"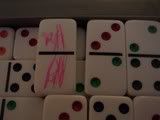 By the time I stopped laughing, the teachable moment had passed.
It's a good thing she's so cute and lovable!!