This trip was in the planning stages for what seems like a long, long time. I think that we had been talking about going before I became pregnant with our twins, but the planning really started happening once we found out that we were having twins. In a way, I think that it was a coping mechanism for us. We were scared about what our lives were going to be like going from 2 to 4 children and we needed this lurking in the future to help us think that we were going to be able to have fun again.
I have to admit that I was very nervous about this trip right up until the very last minute. I was nervous about flying with children. The last time I flew, we had one child and that wasn't such a great experience. How would we manage with 4?? Also, our children are very prone to random meltdowns and on good days, I don't always have the patience to deal with it. How would I manage with the stress of traveling?
I figured that I would have one thought when we leave here. Either I would be ready to plan our next Disney vacation or I would never want to return again. Right now, we are a little more than half way through our vacation, so it may be a little early to say this, but...I am ready to plan our next trip here :) We are having a fantastic time. Not that there haven't been little bumps in the road, but it's been great!
Our trip down was fast and uneventful. Once we got to Orlando, it was a little tedious getting to our resort (Disney's All Star Music), but there were no major problems. My girls and I took the bus to the hotel while my husband went to get our rental van and stop by Babies R Us to buy a double stroller. Can you believe that it was cheaper for us to buy a stroller than to rent one from Disney for the week? Plus, we will probably sell it once we return home and maybe recoup a little money from it.
Our hotel room is fantastic and is probably part of the reason why I am still sane! It used to be two rooms that has been converted into a suite. We have a little kitchenette, two bathrooms, and separate sleeping areas. I was talking with someone who was complaining about the size of the suite, but for us, it's perfect. I would definitely stay here again.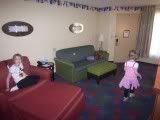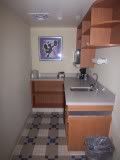 We didn't end up going to a park on our first day here, but instead rested and then went to dinner at The Boardwalk. Our first park of the trip was Disney's Hollywood Studios and we started off with Voyage of The Little Mermaid. We were waiting in line, about to enter the attraction, when one of my little 4 year olds fell and split her head on one of the turnstiles.
She was bleeding pretty good and we have a history with head wounds and stitches, so the Disney cast member at the attraction called the paramedics. Holy cow! This meant that Disney staff came out of the woodwork. We were very well attended to and Maddie and I were even given new t-shirts because we both had blood all over us :( The paramedic said that he thought that she could use one or two stitches, but that it most likely wasn't needed. I don't know at this point if it was the right call or not, but we opted to not get the stitches and save her the trauma from that. The cut is pretty high up on her forehead so I don't think that it will be too visible.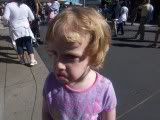 We were very lucky. It could have been much, much worse, but my little Maddie was a trooper and wanted to go in and see the Ariel show once she was all bandaged up. It wasn't the best way to start the day, but, like I said, it could have been worse.
My girls are having a fantastic time. My parents are also here, but are staying in a condo off-site. All of the girls have had a chance to spend the night with them at their condo (two at a time), so that has been a nice break for them and a chance for us to take the other two to do different things.
The weather has been great, although we did get soaked yesterday at Animal Kingdom.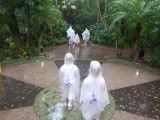 Today we are taking a break from the parks, but have dinner/shopping plans at Downtown Disney and then a fireworks cruise with my husband's parents. I think that my little Sydney and I are going to miss both of those because she has a cold and is feeling very miserable. She is napping right now, so we'll see what happens.
There are so many details to share, but I know that they would probably be boring to anyone but us. The trip is being well documented in photos, that's for sure!!
One last thing, if anyone has any ideas on how to bring a new Toyota Sienna home with us on the plane, that would be great. It is our rental vehicle and I love it!! I am trying to figure out how to bring it home with us as a souvenir!